Integrated Pest Management (eMCCA110) – IPM
USD $70.00
Course duration: Allow an average of 3 hours to 5 hours to complete this IPM training course.
Satisfaction Guaranteed
No Hassle Refunds
Secure Payments
Description
Integrated Pest Management (IPM) Training Course: Medicinal Cannabis Crops
Cultivation of medicinal cannabis is a complex business operation that requires expertise in the prevention of common plant pests and diseases. Avoiding contamination while protecting an 'organic' grow is crucial to a viable and saleable cannabis crop for medicinal purposes.
With so many pests, plant diseases and other microorganisms to manage, having an onsite IPM team leader is often crucial to Quality Control.
So, too, is ensuring your cannabis industry employees and contractors have the best cannabis-industry training courses, including our popular MCCA Series 1 and MCCA Series 2 online training courses covering cultivation basics and regulatory compliance considerations for the cannabis sector.
This IPM training course was designed by several international experts in the medicinal cannabis cultivation sector. 
Perfectly suited for new hires in the cannabis cultivation sector, existing employees, operations managers, investors, career-change agriculture professionals, quality managers, and medicinal cannabis cultivation site owners.
---
What's covered in this Integrated Pest Management online training module:
Overview of Integrated Pest Management (IPM) in the Medicinal Cannabis Industry
Common Plant Pests and Plant Diseases
Common Plant Pathogens
Cannabis Pests & Disease Prevention Measures
Potential treatment measures including biological controls
Personnel Responsibilities
---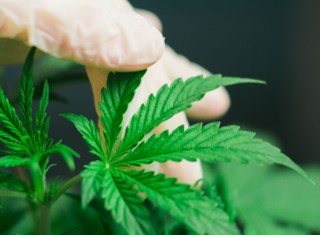 ---
This online Medicinal Cannabis Cultivation training course will help employees, contractors and vendors to better understand the sector AND the basic fundamentals of pest and disease prevention when cultivation crops for herbal medicines/pharmaceutical manufacturing purposes.
---
What will you learn in this Integrated Pest Management training course (online IPM training)?
Module 10 of 12 modules* in the Medicinal Cannabis Cultivation training series by PharmOut's expert cannabis industry consultants includes an overview of:
Basic Integrated Pest Management strategies
Early signs of plant diseases and pest infestations
Common pests, diseases, moulds, mildew, and more!
Risk management strategies and personnel requirements
---
*There are 12 courses in the entire series plus an optional 13th course on Clinical Trials for Medicinal Cannabis.
---
IPM for Medicinal Cannabis Crops
Who should complete this Integrated Pest Management (IMP) training course for Medicinal Cannabis crops?
These courses are suitable for anyone exploring the Medicinal Cannabis Industry including cultivation operations, manufacturing operations, quality control, site selection, engineering, and other industry-specific topics.
These modules provide Cannabis Industry Induction training courses and cannabis-industry regulations training resources for employment seekers, future licence applicants, botanists, agricultural operation managers, and/or industry investors.
This online training course is the 10th module of 12 modules in Series 2 of the Medicinal Cannabis Cultivation training program.
The courses are intended to be taken sequentially, in order, as a Series of 12 total training modules designed to assist with inducting individuals in relation to the cannabis sector, including common job roles and employment requirements.
Taking all 12 courses in the Medicinal Cannabis Cultivation Training Series is strongly recommended for all cultivation site employees and contractors.
Learners can, however, purchase and take these top-rated cannabis-industry training courses individually.
---
What is the average duration of the online training course?
The duration of training modules in the Online Training Series for Medicinal Cannabis Cultivation can vary from person to person and topic to topic.
On average, allow 3 to 5 hours to complete the IPM training module.

---
Cannabis cultivation training series: courses for Medicinal Cannabis crop care employees and contractors
Disclaimer: These courses are for EDUCATIONAL purposes only.
The information in these modules and the Series are NOT to be used, nor implied as being useful for, operational or cultivation decisions. They should be combined with onsite training and Supervision. They can, however, provide new employees, licence applicants and/or investors with an introductory overview of various aspects of the global Medicinal Cannabis Industry. Other courses for Herbal Medicine Production, GMP and GACP, can be found by clicking this link.
---
Note about MCCA course completion time frame estimates
Completion times for this cannabis-sector IPM training course, including the Final Assessment, can vary from person to person.
Times to complete the course depend upon your individual learning style, your overall learning capacities, your pre-existing knowledge of the topic, and/or your prior experience in the cannabis sector (and/or with integrated pest management of medicinal crops for herbal pharmaceuticals), and other factors, such as personal time management and potential disruptions to your dedicated study time.
This is one of the longer modules in the Medicinal Cannabis Cultivation Training Series for the medicinal cannabis cultivation industry.
For the medicinal cannabis IMP training course, it is best to allow a minimum of 3 hours and up to 5 hours to complete this module.
On average, each of the 12 courses in the Medicinal Cannabis Cultivation training series takes from 1.5 hours to 4 hours to complete.
To complete the entire MCCA training series of 12 online Cannabis Industry courses, allow from 30 hours to 40 hours total.
Average completion times for each online course will vary, however, and depend on many variables.
Note that you will gain a medicinal cannabis industry Certificate of Completion for each module you successfully complete.
---
Certificate of Completion
Each module in the online Cannabis Cultivation Training series for industry employees or employment seekers will provide learners with a Certificate of Completion upon successful completion of the course and Final Assessment (all online).
This is not a statement of competency.
Rather, it is a Completion Certificate for the IPM training.
You can download the IPM course Certificate of Completion, save it, print it, and submit it to your Personnel Department (or potential future employers, along with your current resume/CV).
---
Note that there are strict hiring criteria for working in the medicinal cannabis sector due to the high value of medicinal cannabis crops.
---
Recommended further reading
Read our top 10 best blogs on medicinal cannabis industry and cultivation requirements.
What skills are required to work in the pharmaceutical manufacturing industry?