Expect to see significant changes in the education and training industry between 2020 and 2025.  The most transformative changes will be the addition of Artificial-Intelligence and Virtual Reality (VR) to traditional e-learning options. So how will virtual reality and artificial intelligence impact the digital training industry?
---
Virtual Reality Trends in Education and Training Sectors
---
---
Artificial intelligence (AI) and online training courses
Online courses will be more responsive to individual users.
AI helps measure learners' pre-existing knowledge of the topic and responds by assessing/filling in the learning gaps.
A responsive technology training platform means specific content is either delivered OR not delivered based on pre-existing knowledge and areas of interest.
How? Pre-training assessments and/or AI during online course delivery.
How will this education trend impact online training course providers?
Expect to change your online course delivery methods to include pre-testing and responsive A.I. within the next 2 to 3 years.
To add further automation including artificial intelligence, factor in higher course development costs in annual budgets.
Be aware that easy-to-use development templates and training modules will follow, reducing course development costs — but this can take up to 1 to 4 years after the technology is released.
The risk in the interim is that R&D savvy competitors might zoom ahead of your firm, luring your students away from your university, training program or brand.
---
Applicability: Artificial intelligence in Pharmaceutical Production
GMP audits may also become more AI dependent in the future.
Risk Management teams are increasingly using analytical software (predictive risk analysis apps) to synthesize and analyze big data relating to quality management/production processes.
AI may also help with overseas production facility audits, as in-person GMP auditing becomes difficult to sustain in terms of travel costs and schedules.
AI in pharmaceutical manufacturing is also a huge component of advances in data integrity and blockchain/distribution.
Medical device manufacturing and Software as a Medical Device (SaMD) will also be hot topics for GMP courses, especially in terms of FDA and TGA regulations (PIC/s) and other public safety-focused regulations.
---
Online Training Trend #7:
Virtual reality will drastically change the face of training delivery over the next 3 years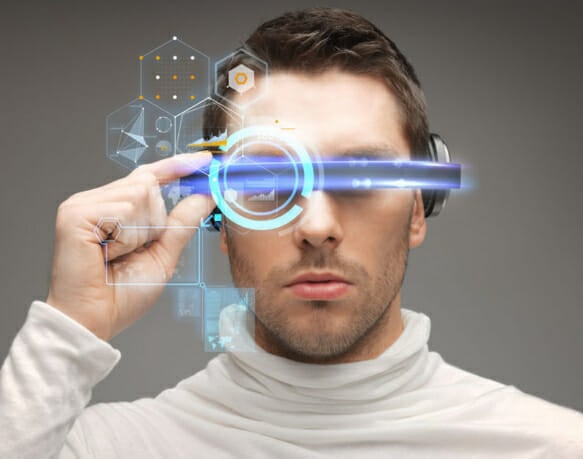 How will this education trend impact online training course providers?
Firstly, consumers will expect more entertainment-like training over the next few years (game-theory learning).
Secondly, virtual reality technologies will provide practical training experiences as well as theory delivery.
Expect higher development costs to embrace this 2020 trend of using virtual reality in education and training settings.
Fortunately, game-theory based training courses are likely to be positioned as premium-cost products (higher training costs).
So there will still be room in education/training markets for low-cost online training courses.
---
Online Training Trend #8:
Digital courses and virtual reality training experiences will need to be readily adaptable
Updates to digital training resources — especially if your courses involve Virtual Reality technologies or cover technology-based topics— will need to be created in easily-updatable programs.  This includes your LMS.
Why? Because digital technologies are changing so rapidly, and so most industries are being disrupted by those changes, that very few things remain the same for very long.
Exceptions include heavily regulated industries, with well-evidenced practices guided by slow-changing regulations — such as GMP training.
But even that might change during the next decade; because there are typically updates to guidelines and/or emerging recall scenarios.
How will this education trend impact online training course providers?
Prepare to ensure your course development staff are aware of — and responsive to — industry and tech changes.
Shorter courses (microlearning segments) typically have the added benefit of enabling faster module updates compared to courses developed and packaged as an 'all in one'.
Train your team in the latest emerging training delivery technologies, including AI and VR, and try to stay ahead of your key competitors.
Schedule time during the year to update your course-content — AND be sure you factor this into your course development budget.
Aim for seamless branding and solid branding consistency — but ensure you modernize your branding styles every 5 years on average.
Fortunately, you can expect to find more readily-updatable LMS and course development applications being offered in the market.
---
Online Training Trend #9:
Free courses offered as 'lead generators' will continue to force down the cost of online learning options
Many would-be entrepreneurs and business coaches have flooded the market in recent years, with their free courses and webinars — aiming to attract paying customers.
They've been able to do flood the market rapidly because numerous templates and training platforms are now available for a minimal-cost or hosting fee.
Lead-generating courses are also a preferred brand-awareness activity, so expect this to continue; although gaining participants to any course — free of charge or paid training — is becoming more challenging with so many courses now on offer.
How will this education trend impact online training course providers?
Expect further downward pressure on online course prices in relation to expanding competition including free-of-charge training webinars.
There's also an increased likelihood that the consumer-learner might adopt a 'constant course sampling' mentality — never committing to an actual purchase — simply because so many digital training courses have flooded the market.
Advertising costs may also increase drastically as more providers compete for student enrolments.
The emphasis in your ads should reflect the quality of your training content and your course providers — e.g., depth, breadth, and reputation in terms of expertise and communication style.
Also note that when registering for no-charge training courses, you get what you pay for…As time is our most precious commodity in today's society, it shouldn't be traded so readily.
---
Online Training Trend #10:
More mobility across devices and geographic regions
In developed and less-developed countries, more individuals will gain access to online course options and digital education opportunities.
Governments will continue to encourage and finance online training delivery options as a way to provide affordable education to large populations who would otherwise lack educational opportunities.
How will this education trend impact online training course providers?
This means more educated populations and more education across the globe — it enhances the industry as well as the GNP and GDP of a country.
It also means more country-specific, regionally-focused courses will need to be developed, which offers opportunities to education providers who are keen to embrace these online course delivery trends for 2020 and beyond.
But the biggest impact is likely to be the requirement for translation into different languages, local dialects, and regional preferences, bearing culture and literacy in mind.
---
Predictions for 2020 online course delivery – digital stability or drastic disruption?
With so many things about to change drastically, what components of training are likely to remain the same in 2020 and beyond?
Microlearning
Shorter course durations and micro-learning training programs will continue to increase because we're already being bombarded with easy-to-access information.
Training content curation technologies are likely to see continuous improvements in relation to automation, usability, and pricing.
'Just in time' training delivery will continue to be a key focus of best-practice online training course providers.
Competition for students and course enrolments
Global competition for student enrolments will remain high.
Educational course fees for online learning options will continue to face downward pressures.
Net profit margins may decrease as production and delivery costs increase due to interactivity/virtual reality being added during course designs.
Higher advertising expenditures are also expected in the training and education sector, just as they are in other 'IOT' disrupted industries.
But quality products, including virtual reality courses, will likely be able to be sold for a premium fee (higher unit costs).
Net result: most training providers can expect higher production costs and lower-income streams, primarily due to global competition, a flooded market of 'free courses' in order to gain followers and client leads, and increased digital development costs for online courses.
Factoring in technology changes and content upgrades into training budgets
Remember, it's a costly exercise to continually revamp online training delivery methods and course content, so budget this into your annual plan.
Factor in course content language translations if you plan to expand to developing countries.
Development costs aren't expected to reduce in 2020, primarily because sourcing freelance writers to update industry-specific courses is fraught with challenges.
You need specialist course developers who have an in-depth knowledge of your brand, the needs of your client base including industry developments, and your company's online learning structures and LMS platforms.
---
References. Journal Articles and Further Reading
Journal Article: University World News (Global Education): Are attitudes holding Universities back?
Journal Article: Game theory learning (game theoretic learning)   by Authors CeyhunEksin. BrianSwenson, SoummyaKar, and AlejandroRibeiro
Further reading: Global statistics on fake medications: How counterfeit medications infiltrate the market.
Last updated on October 7th, 2021 at 07:01 am