Prevention of Falsified Medicinal Products
USD $35.00
Satisfaction Guaranteed
No Hassle Refunds
Secure Payments
Description
Prevention of Falsified Medicinal Products
This course will provide learners with an understanding of requirements and legislation related to the prevention of falsified medicines, including:
Counterfeit medicines / fake drugs
Substandard and contaminated medicinal products
Other illicit drug products
Importance of Prevention Training
Falsified medicinal products (counterfeit drugs and adulterated medicines) are a growing problem around the globe. It is estimated that falsified/counterfeit medicines:
Earn criminals billions of dollars each year
Kill over 1 million people a year
Vulnerabilities in Medicine Supply Chains
The supply chain for medicinal products is increasingly complex.
Raw materials, APIs, and finished pharmaceutical products often rely on overseas suppliers and border-crossing distribution routes.
Recent world events have also led to a variety of shortages of crucial medicines.
While counterfeit drugs have always been a problem, these supply chain vulnerabilities greatly increase the risk of substituted APIs and other counterfeit drugs. Additionally, consumers are increasingly buying 'discounted' medicines, online, from unauthorised distributors.
These falsified medicines from unapproved distributors are often dangerous. 

Consuming falsified drug products increases an individual's risk of treatment failures, organ damage, disability, and death.
Legislative Requirements for Prevention of Falsified Medicines
As the risk of public health harms grows, Governments are 'stepping up' their efforts and regulations for the prevention of falsified medicinal products.
This GMP eLearning course covers industry requirements for the prevention of falsified medicinal products, e.g., fake medicines and counterfeit drugs.
This convenient GMP eLearning course can be completed entirely online.
It will help Sponsors, manufacturers, government authorities, and inspectors understand requirements and standards for the prevention of counterfeit drugs and other falsified medicinal products (fake medicines).
Who will benefit from this GMP eLearning course?
This course is suitable for a global audience and a variety of industry roles, including:
GMP compliance inspector/Regulatory Authority personnel
Operations personnel including production line personnel and management teams
Quality Managers and Quality Team personnel
Responsible Person/Qualified Person
Warehouse and Distribution personnel
Logistics service providers working in the pharmaceutical and medical device manufacturing industry
Transportation personnel including drivers and cargo flight personnel
Wholesalers
Hospitals
Etc.
Reducing the risks of counterfeit drugs & other falsified medicines
Pharmaceutical Quality System (PQS)
To reduce potential harms from falsified medicines/counterfeit drugs, manufacturers and regulators must:
Keep informed about supply chain incidents and risks
Engage in appropriate, risk-based safeguarding of pharmaceutical products throughout the supply chain
Ensure science-based risk assessment and quality controls
Ensure regulatory compliance (e.g., GMP compliance) from drug development stages through to manufacturing stages, including warehousing & distribution of medicinal products
Participate in cross-border collaborations and counterfeit product prevention initiatives
Manage supplier qualification processes/supplier recordkeeping
Adopt appropriate packaging, labelling, and distribution recordkeeping standards (e.g. serialisation, UPIs, etc.)
Post-marketing surveillance is also a crucial quality control activity for detecting and preventing falsified medicines from entering pharmaceutical supply chains.
Understanding regulations for the prevention of falsified medicines has never been more important.
Course Agenda: GMP eLearning course
This GMP eLearning course covers industry requirements for the prevention of falsified medicinal products, e.g., fake medicines and counterfeit drugs. It provides an overview of medicine supply chain protections and regulatory requirements for industry, Regulatory Authorities, Inspectors, and Internal/External Auditors.
Prevention of counterfeit drugs/falsified medicinal products
This course emphasises why protection measures including serialisation, Good Warehouse Practice (GWP), Good Distribution Practice (GDP), and Pharmacovigilance are key elements for preventing counterfeit drugs/falsified medicines from entering supply chains.
Regulations governing the prevention of counterfeits and falsified medicines
This course overviews global perspectives on the prevention of falsified medicinal products. It includes guidance examples and government initiatives to prevent counterfeit drugs/fake medicines from entering supply chains, e.g. initiatives or guidance from: 
The World Health Organisation (IMPACT)
Interpol operations in collaboration with Regulatory Authorities such as the TGA, EMA, etc.
US FDA Regulations (Title 21 CFR) for packaging and labelling and UPIs
Australian TGA guidance
EU EMA guidance
Other Regulatory Authorities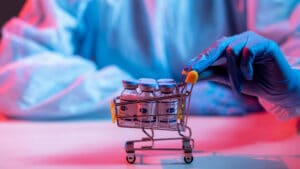 This course is suitable for a global audience and will help learners understand industry responsibilities for:
Medicine Supply chain protections
Distribution safeguards for medicinal products
Serialisation and Unique Product Identifiers

Packaging and labelling requirements

Product tracking scanning systems

Compliance standards including GMP, GDP, GWP and others
Packaging and Labelling requirements including tamper-evident packaging, other safety features, and distinctive labelling
Requirements for imported medicines
Licencing requirements for medicine Wholesalers and providers of logistic services
Title 21 CFR (FDA regulations)
EU EMA regulations and guidance for the prevention of falsified medicinal products and counterfeit medicines
TGA requirements for the prevention of falsified/counterfeit medicines
Other medicinal product supply chain safeguards and globally accepted standards (GMP & related requirements) to prevent falsified medicines
Certificate GMP eLearning for Prevention of Falsified Medicinal Products
This is a certificate GMP eLearning course that will provide learners with a Certificate of Completion for "Prevention of  Falsified Medicines" upon successful completion of the eLearning course's online assessment.
One user per licence. Users will have 12 months' access to the course upon purchase. You can combine this course in a training bundle (search for the bundle tabs) if you need to order multiple courses.
Regulatory compliance responsibilities re prevention of falsified medicinal products
Are you up to date with your regulatory requirements in relation to the prevention of falsified medicinal products/counterfeit drugs? Are you prepared for your next GMP or GxP compliance audit?
If you need to learn more about supply chain protections to combat falsified medicinal products, this eLearning course is an ideal way to enhance your regulatory compliance knowledge.